Security is one of the key factor for us whenever it comes to our and our loved one's well-being. We need our house well secured from external forces and intruders. But then again, presentation is also an aspect that we do not want to compromise with when it comes to our houses and belongings. We build them after a lot of planning and thinking and each and every aspect of the house is important. We consider from the very strength & longevity to its maintenance for the long term.
We at Metal Craft Bd. with our passionate drive for the workmanship of the wrought iron and a constant quest for technical and aesthetic innovations understand this very need of our clients and we commit ourselves to try our best in order to provide exactly what is needed and if not, better. We challenge ourselves to craft out strong structures that not only secures at the extreme but also emits a complimenting beauty.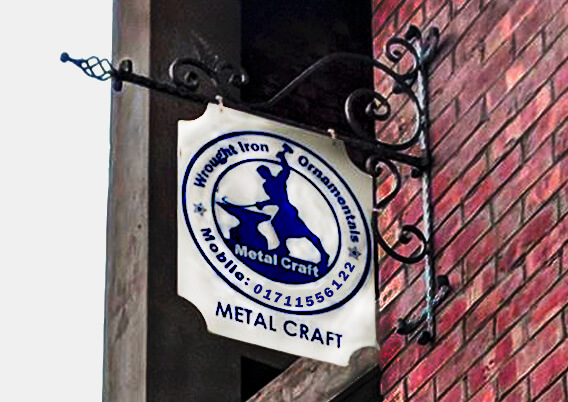 From the use of the state of the art machineries and the latest of technology and to the choice of materials, each member of the company contributes to the creation of these cutting-edge products that are the expression of a culture that Metal Craft Bd. promotes and disseminates nationwide. We all throughout maintain working with our clients and suppliers on a one on one basis and we know that is one of the ways we can provide high-quality products and services guaranteeing a unique and controlled quality standard. At the same time, Metal Craft Bd. too take into consideration the affects that the manufacturing activity may have towards the environment so we try to push in and implement sustainable policies in order to maintain the environmental health and reduce on the harsh impact on the ecology.
The team of Metal Craft Bd. Looks forward our clients visit the office and join us in the designing process for a vast range of products from Gates, Stairs, Railings, Windows, Mirror Frames, etc. The clients are also most welcome to have a look through the manufacturing process so that they know how and what we exactly.
We have teams of young energetic marketing representatives to respond to our client's queries and also assist our clients with the designing process with the support of our designing team at the client's convenience.
The Various Services We Have For You
Consult our specialists for assistance on design, customization or order
Wrought Iron Ornaments Design
If you want specific design on the ornaments, feel free to share your design idea with us, our professionals will assist you with the design, share in expert opinion and suggestion for it. You will also be shared a quotation for production for your master work if you may need one.
Wrought Iron Fittings Designs
You may try out our designer software section ``Make Your Own Design` to see how may your gate or stairway grill or window grill or even balcony grill look like . You may share your masterwork requesting a quotation from the team. You may aslo show off your design concept with fiends and family members.
You Visualize, We Create
Do you have some design in your mind? Would you like to see it on the paper and then physically as a part of your home? Allow us to have our specialist agents come over to your house or office and know your requirement, then share the design with you on paper. If you like it, we will bring that idea of yours to life.